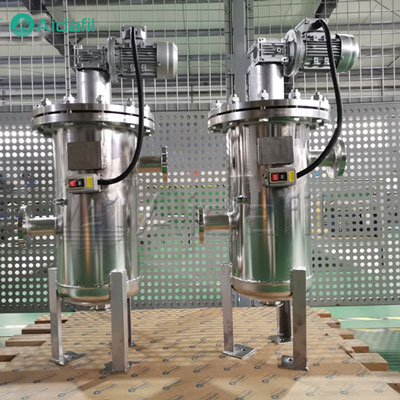 Multi-unit automatic backwash filter system
Model:
Precision: 0.01-0.1um
Get Quotation
Product Details
Multi-unit automatic backwash filter system

AIDA perfectly replaced Suction Automatic Self-Cleaning Filter, Automatic backwash cleaning filter, Multi-unit automatic backwash filter system, Candle type automatic filtration system, Bag filter, Plate Seal Filter, Pipe filter
famous brand oil purifier. It is excellent equivalents for customer to choose from its economical and practical points.

Product introduction

Multi-unit automatic self-cleaning filtration system is our company introduced overseas advanced technology then develop and produce new type filtration system. It has some impurity of media in oil, chemical, water treatment, etc industry. Because of diameter the suspended particle is very small so it cannot remove effectively them by traditional filtering way, especially it doesn't clear on line but if use the special filtering ways can remove the insoluble substance in system & foreign body in process of producing and processing.

Application area
Widely used in brine refining, oil, chemical industry, water treatment, paper making and other industries.

The principle
Multi-unit automatic self-cleaning filtration system is mainly composed of multi-unit pipeline filters, differential pressure controller, pneumatic valve and pipe, holder, electric cabinet, etc. the self-cleaning filtration system is divided into clean space and dirty space by the partition plate., the system have some filtering element in internal, when the material flow by inlet from outer to inside and pass to filtering element, the impurities of material will be left outer of filtering element, then the filtering material pass the clean space and be flowed form outlet. The system will clear respective the each team filter when the differential pressure of inlet and outlet reach set value, then close the valve of inlet and outlet of one unit filter, open wash water valve and valve of back wash, the system will begin to reverse clean the filtering unit, finally the system will begin to clear next filtering unit after it finish the reverse clear program. So the all clearing process can not effect regular filtering of system in fact, it is convenience by backwash, so it can be backwash, so it can be backwash by hand or pass to operate the controller to do backwash by automatic.

Product features
Continuouos feeding function
Backwash effect is good
Other maintenance and low cost
It can be made convenient dismantlement and occupy small space
Adapt to do all kinds of environment
Apply to all kinds of liquid materials

Technical parameters
Working pressure: 0.6~2.5 Mpa
Working temperature: 60~150 degree
Filtering rating:5um, 10um, 15um, 20um, 25um, 40um, 50um
Flow of media: it can be designed according to technology datas of spot by client
Control model: automatic, by hand movement.
Filter element: confirmed by technology datas.
Dimension: confirmed by technology datas of client.

Related Products
Inquiry
Please kindly leave your detailed information. We will get in touch with you as soon as possible after receiving your message.