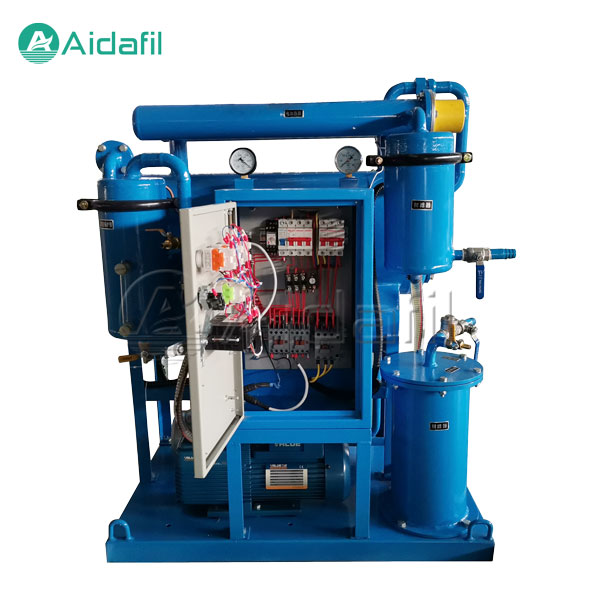 Product Details
High Efficient Vacuum Oil Purifier

AIDA perfectly replaced alternative PALL ,alternative ,Leemin famous brand oil purifier.It is excellent equivalents for customer to choose from its economical and practical points.

Main function
●Dehydration
●Degassing
●Remove machinery impurity

Multiple with regenerating unit,the oil purifier also functions as below:
●Disacidify
●Decoloration
●Enhance insulating strength
Performance&Characteristics
Vacuum system:
Vacuum system is composed of vacuum container,vacuum pump,colling tank,effusion tank,air admission system.Adopts optimized structure design,which vastly enlarges the oil superficial area,and prolongs ultimately oil route in the vacuum system.

Filtration system:
Adopts level 3 filter,the inlet port coarse filter protects pump and prolongs the main filter working life.

2 stages filters behind the pump can make the oil high clearness.Utilize special gradient aperture glass fiber material.It can significatively filter different sizes particles,which lengthens the filters working life greatly.Completed filter element structure and lower the material surface velocity and achieve steady filtration.

Heating system:
Applied subsection and step by step to heat, the surface heat loadless than 1.0W/cm2,won't be overheat and cause the oil goes bad.The oil temperature can be adjusted at 0~100℃ and controlled automatically,installed with protection device,it'll stop operating when the input oil less than usual,which avoids the damages for heater overheated.
Automatic control system:
The oil purifier equipped with series of Automatic control instruments collect equipment operation information as transducer,level transmitter,temperature sensing instrument,vacuum sensing instrument.Then pass on to central processor to deal with,control and monitor the whole equipment operation conditions.Also equipped with kinds of protection devices(overload protection,overvoltage protection,phase sequence protection,abnormal operating outage protection) can make sure equipment operation safe.
The whole structure:
The integration of the bridge structure reduces volume.Adopting the whole removeable tank can make oil-free operate reducing pollution.
Movable type,stationary type,totally enclosed type,vehicular and many models for reference.

Outside measurement:



Technical Principle Structure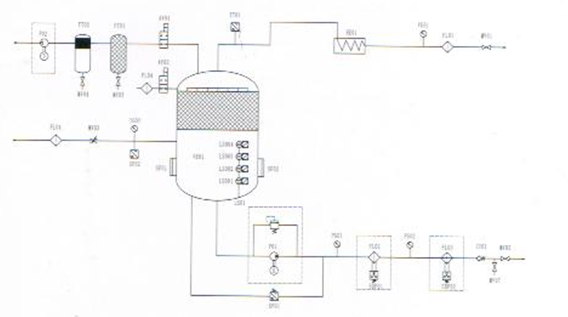 Parameters:

Item
Parameter name
Units
ZJA-30
ZJA-50
ZJA-100
ZJA-150
ZJA-200
ZJA-300
ZJA-500
Equipment technology standard
Flow Rate
L/H
1800
3000
6000
9000
12000
18000
30000
Working Vacuum
MPa
-0.08 — -0.099
Working Pressure
MPa
≤0.5
Temperature control
℃
20 — 80
Power
V
380V/50Hz(or according the customer's need)
Working Noize
dB(A)
≤78
Heating power
kW
30
45
60
90
135
180
216
Total Power
kW
35
50
66
96
142
191
230
Out in Diameters
mm
25
32
40
50
50
65
80
Equipment weight
Kg
600
800
1000
1300
1800
2100
2400
Size
LONG
mm
1200
1250
1450
1600
1600
1800
1900
WIDE
mm
1200
1250
1400
1600
1600
1700
1900
HEIGHT
mm
1700
1750
1800
2100
2150
2250
2300
Oil treatment Index
Oil Breakdown Voltage
KV
≧70(GB/T507)
Water content in oil
PPm
≤3(GB/T7600)
Gas content in oil
%
≤0.05(GB/T423)
Filtration Precision
μm
≤3
Related Products
Inquiry
Please kindly leave your detailed information. We will get in touch with you as soon as possible after receiving your message.