AOP-B series movable portable oil purifier
This oil purifier is type of new purifier used in filtering new oil, fill in new oil and filter, clean up the oil in use, by pass filtration of hydraulic lubrication system.

The main component has motor, pump, coarse filter, fine filter, cart, gauge and oil hose.The advantage of the purifier is following:
This oil filter is equipped with a special gear pump driven by a motor. It has the features of low field sound, strong self-priming ability, and stable operation.
The high-pressure pipe line is equipped with overflow protection device. It can effectively protect the safety of the hydraulic system.
Use thermal relay protection to prevent the motor from being damaged due to overload.
The coarse filter at the suction port protects the oil pump and extends the service life of the main filter.
There is a two-stage fine filter behind the pump to make the oil quickly reach a high degree of cleanliness.
Different precision for the fine filter can be chosen to achieve the required results.
The primary filter can remove larger particles and impurities, and the secondary filter can filter out the particles and water.
The panel is equipped with a pressure gauge, which continuously indicates the operating status of the system and the pollution degree of the filter element during operation.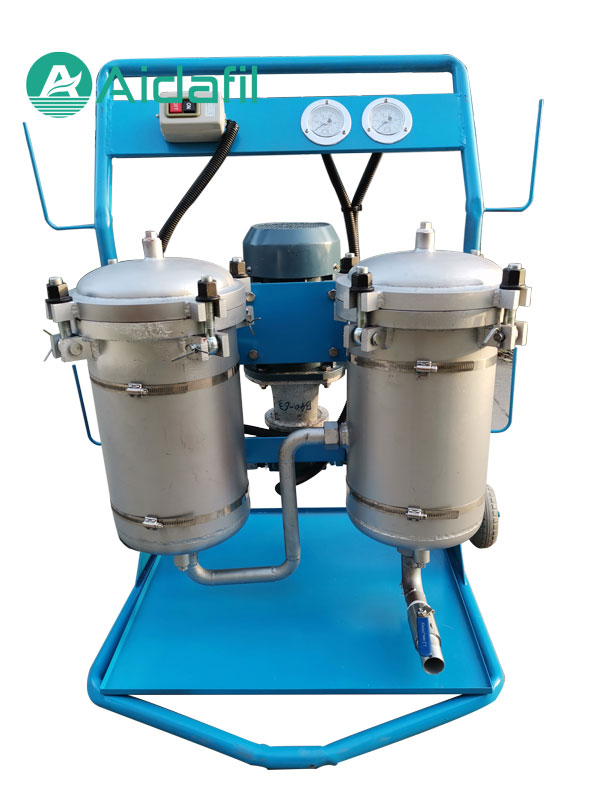 The oil purifier is working like this:
The pollution degree of unpurified new oil often exceeds the requirements of actual hydraulic system oil regulations. Even the new oil that has just been extracted from the oil tank is not suitable for direct use. There are many reasons for the pollution of new oil. Various contaminations, including particles, water, may pass into the new oil during processing, mixing and storage. Portable oil filter is an ideal method for pre-filtering, filing oil and purifying system oil. The free water in the oil can be removed though the dehydration filter element installed in the out let filter. The dehydration filter element is made of superabsorbent resin that has a high binding force with water. Free water once contact with this material is absorbed.
One of our clients is in Philippine cement plant, the mill has a problem with the gear oil. The oil was heavily contaminated especially with metal particles and swarf as well as other abrasive soild particles. It cause sliding abrasion and fatigue wear was measured. The water content in the oil was also higher than usual. If such an extremely contaminated oil is used, the life time of components will be reduced significantly.
After installation of AOP-M50B, the oil cleanliness improved obviously. The content of iron particles decreased and the determined value for wear returned to a normal level. Due to the removal of particles and water from the oil, not only system and components are protected against wear, but also oil changes are avoided. That is a financial advantage and a decision in favor of our environment.