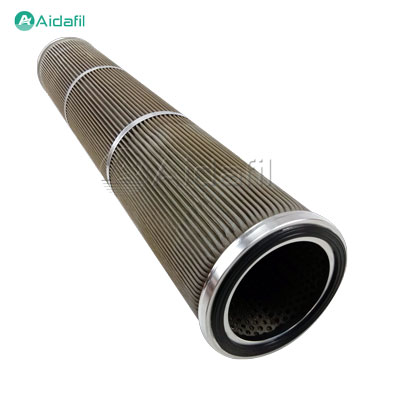 Metal mesh folding filter element
Model:
Precision:1-20 micron
Get Quotation
Product Details
Metal mesh folding filter element is a kind of durable and pleatable 316L stainless steel medium, sintered into a graded pore structure. The sintered metal felt enjoys the advantages of high porosity rate, lower resistance, more filtration area, high dirt holding capacity and can be repeatedly used.
Stainless Steel Filter Wire Cloth is woven wire cloth made of stainless steel fine drawn wire. Fine woven micron mesh cloth usually works as control layer, while coarse woven mesh usually works as strengthening layer or support layer for the pleated filter elements.
Filter elements processed with stainless steel woven wire cloth as filter medium, have such advantages of good strength, fastness, easily cleanable, heat-resistance and economic cost.
High dirt holding capacity
High reliable standard specifications
Stainless steel pleated filter element has low pressure drop due to high porosity
Pleated filter element has accurate filtration rating
Easily cleanable by conventional chemical cleaning and with a long life-span
Filtration area of pleated stainless steel filter element is increased by pleating
Pleated filter elements can use ultrasonic, chymistry to clean, and can be repeatedly used; can also be bounce-back cleaned without dismantling on the product line, then saving the time
Stainless steel pleated filter elements have strong corrosion and acid and alkaline resisting property. Durable, reusable, save cost.
General Technical Data:
1.Working pressure:30Mpa
2.Working temperature:300 degree celcuis
3.Dirt holding capacity:16.9~41mg/cm2
Material: Stainless steel 304,304L,316,316L
Related Products
Inquiry
Please kindly leave your detailed information. We will get in touch with you as soon as possible after receiving your message.